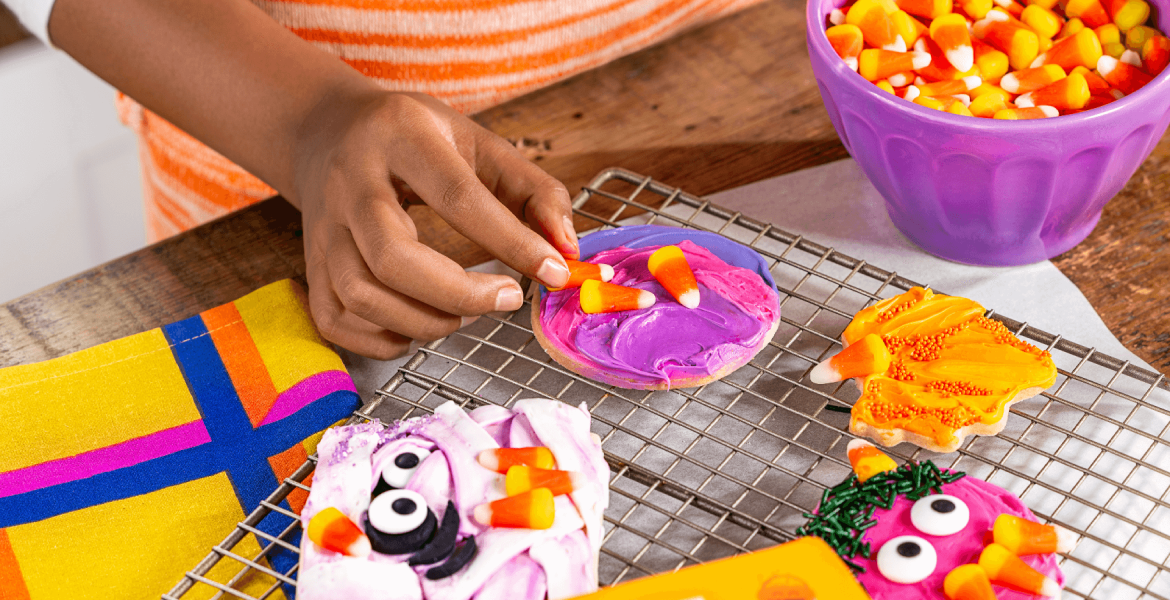 Brach's® Candy Corn Monster Cookies
Print

|
Share


25-35 min
Cookie Ingredients
2 and 1/2 cup All-Purpose Flour (300 g)
1/2 tsp Baking Powder
1/2 tsp Salt
1 and 1/2 sticks (3/4 cup) (170 g) Unsalted Butter, room temperature
3/4 cup White Granulated Sugar
1 Large Egg, room temperature
2 tsp Real Vanilla Extract
Parchment Paper
Icing Ingredients
1 Cup Unsalted Butter, room temperature
2 tsp Vanilla Extract
1/2 tsp Salt
3 Cup Confectioner's Sugar
Gel Food Colours
Decorating Ingredients
Brach's Classic Candy Corn
Marshmallows
Sprinkles
Various colors of icing for cookies, black icing for decorating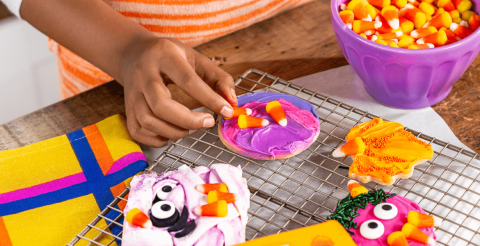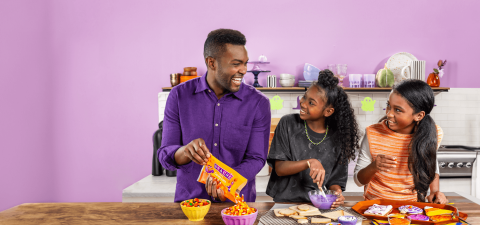 Cookie Procedure:
Mix together the flour, baking powder and salt in a bowl
In another large bowl, using a stand mixer or handheld mixer with beater attachments beat the softened butter and sugar together for about 2 minutes on high until the mixture is smooth, light and fluffy.
Add the vanilla extract and egg and mix together for another minute. Scrap the sides of the bowl down and mix again until well combined.
Add the dry ingredients into the large bowl and combine with the wet ingredients on low speed.
Place two pieces of parchment onto your work surface and sprinkle some flour onto them.
Divide the cookie dough into two portions for easier rolling and place them on onto the floured parchment.
Use some flour on the rolling pin and carefully roll the dough to a thickness of 1/4".
Once the dough is rolled, place the dough with parchment under it on a cookie sheet.
Flour the surface of the dough and place another piece over the top of the dough. Repeat the process for the other piece of dough. Stack them on each other and cover the package with plastic wrap.
Place in the fridge for 4 hours minimum or 2 days maximum.
Take the dough sheets out of the fridge and cut them into shapes for your monsters.
Cut into squares, triangles, circles to various face shapes. Combine the scraps and roll the dough out again as needed until it is all used up.
Preheat your oven to 350ºF
Line your baking sheets with parchment paper and place your cut cookies onto it leaving space between for spread.
Cookies will take 11-13 minutes. Bake until the outsides are lightly browned on the edges.
Allow cookies to cool slightly then transfer to a wire rack to cool completely.
Or...buy pre-made sugar cookie dough from the refrigerated section of grocery store, roll it out and cut out your shapes.
Icing Procedure:
Add unsalted butter to a large bowl and using a stand mixer or hand mixer and whip for 3 minutes on high (starting slow) until light and fluffy.
Whip in the vanilla extract and salt.
On medium speed slowly add the sugar, 1/2 cup of sugar at a time until it is all incorporated.
Mix another 3 minutes until smooth and creamy.
Separate the icing into smaller bowls and add the different gel food colors as desired for Monster Cookies (suggested Purple, Green and Purple and Black for decorating).
Decorating Procedure:
Spread colored icing onto finished cookies. Purple, Green and Orange Icings are suggested for spooky monsters.
Decorate the cookies to make Monster Faces using the

Brach's Candy Corn

, Black Icing, Marshmallows to make Eyes, Nose, Ears, Mouths, Hair, Fangs, Eyebrows, Scars, etc.
---