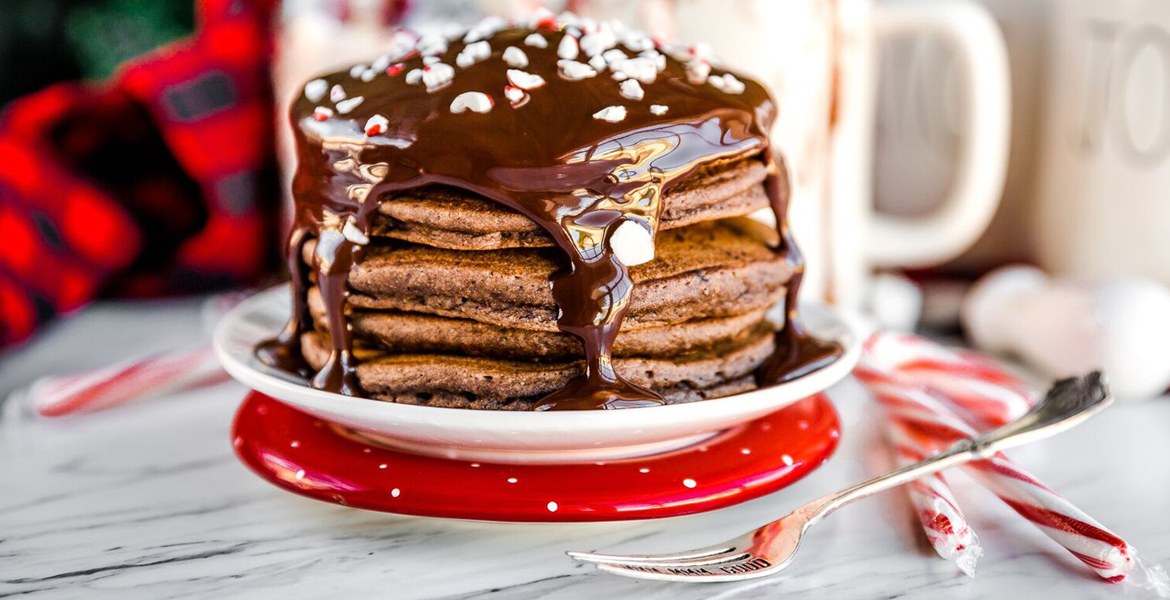 Holiday Chocolate Pancakes with BRACH'S® Peppermint Crushed Canes
Print

|
Share


25-30 min
Ingredients
1⅓ cup all-purpose flour
3 tablespoon unsweetened cocoa powder
3 teaspoon baking powder
¼ cup sugar
¼ teaspoon salt
3 tablespoon butter melted
1 teaspoon peppermint extract or vanilla extract
¾ cups buttermilk (if needed you can replace with milk)
½ cup milk
1 egg
½ cup mini chocolate chips optional
¼ cup BRACH'S® Peppermint Crushed Peppermint Candy Canes
In a medium bowl mix together dry ingredients. Add wet ingredients and stir just until combined. The batter is thick and lumpy. If desired, add in mini chocolate chips.
Heat griddle over medium heat and grease lightly with butter or oil.
Scoop approximately ¼ cup of pancake batter into the griddle. Mixture may be thick, and if so use spoon to help spread the batter out a bit in the pan. Cook until pancakes have bubbles on the top, then flip and cook an additional 30-60 seconds. Repeat with remaining pancake batter.
Serve topped with powdered sugar, chocolate sauce, butter, or

crushed candy canes

. Enjoy!
* A triggered ice cream scoop is perfect for scooping your batter. *Whole wheat pastry flour can be substituted for the all-purpose flour.

Recipe from Love from the Oven
Servings: 10 Pancakes
Prep Time:10 Minutes
Cook Time: 20 Minutes
Total Time: 30 Minutes
These chocolate pancakes take it over-the-top with the addition of crushed candy canes for the holidays.
---